Tolstoy Illustrated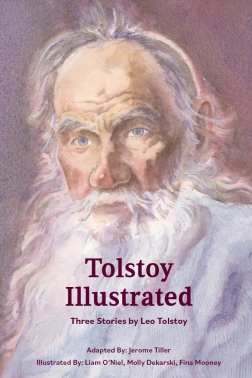 Three Stories by Leo Tolstoy
By Leo Tolstoy
Published by ArtWrite Productions, Adapted Classics
Buy from:

Tolstoy Illustrated collects three of Tolstoy's best moral tales, each illustrated in pen and ink by a different young artist trained at The Art Academy, a renowned educational institution established in 1993 in St. Paul, Minnesota. These fables exemplify the moral stance Tolstoy adopted in the last three decades of his life as his search for truth matured and crystalized. The book, a 6"x 9" perfect-bound softcover, is 86 pages long and contains 16 illustrations.

Too Dear!—illustrated by Liam O'Neil—is Tolstoy's adaptation of a humorous Guy DeMaupassant story. It satirizes the moral deficiencies of government leaders who bungle the punishment of a convicted murderer. Financial concerns take precedence over justice and morality as the convict enjoyably awaits his fate. The story asks whether self-interest should ever matter when making decisions that involve others.
Three Questions, illustrated by Molly Dekarski, describes the expansive quest of a good king who wants to be better. The king believed he would never experience difficulties in life if he could learn what was the most important time, who was the most important person, and what was the most important thing to do. The story promotes living moment by moment in service for the good of all, which naturally encompasses oneself.
In The Empty Drum, illustrated by Fina Mooney, a subject responds dutifully to all of a king's commands no matter how unreasonable. The king intended to work his subject to death in order to satisfy his own selfish desires. A higher power helps the subject fulfill all unreasonable demands, thus helping him passively thwart the king's evil plan without resorting to aggression. The subject's trusting reliance on a higher power along with the outcome of the story symbolizes Tolstoy's belief in peaceful resistance.
Perfect Bound Softcover | 86 pages | $11.95 USD | 6x9 | 978-1-939846-27-3 | May 8, 2023